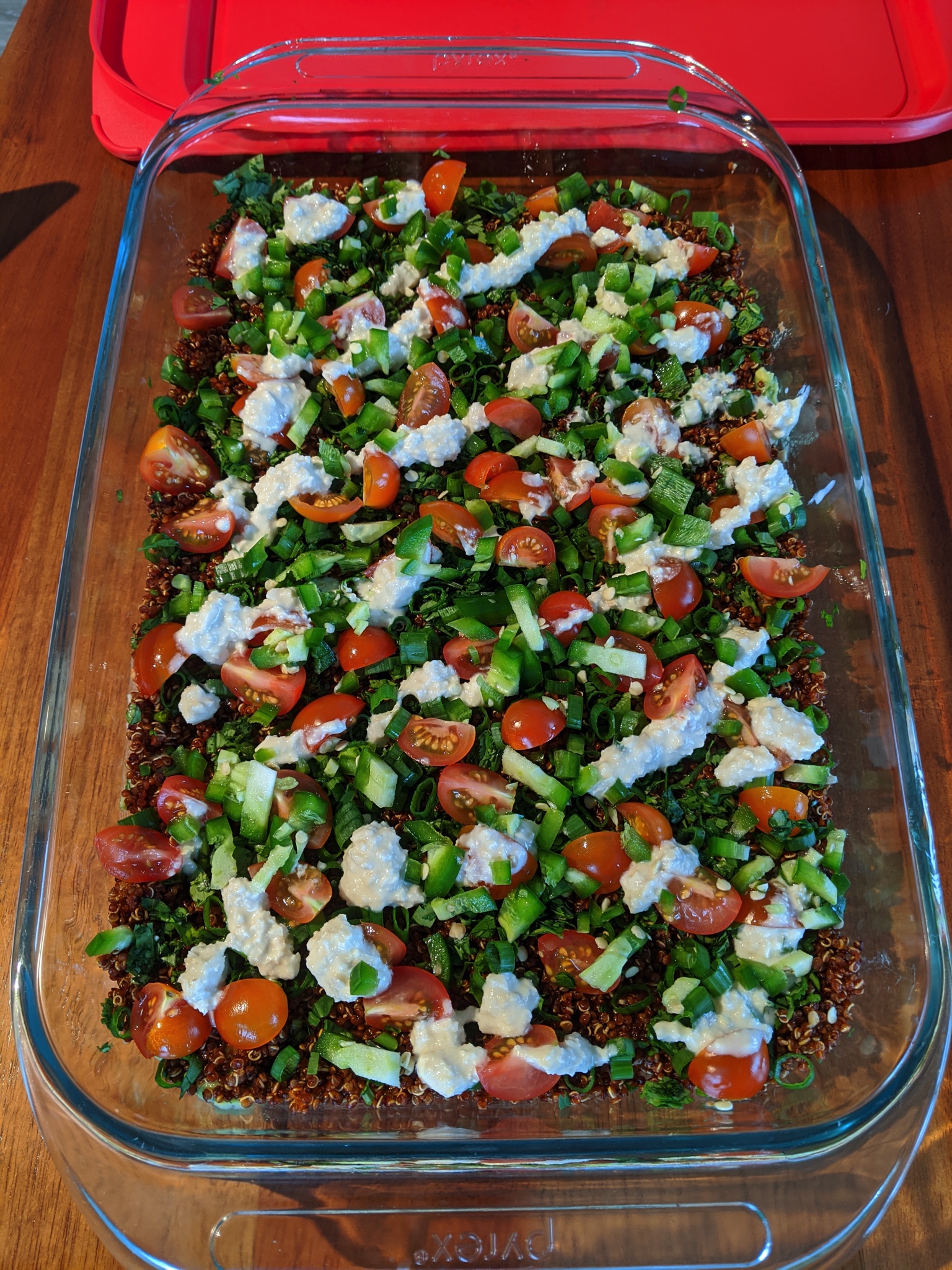 Yum
Serves: 6 to 8
40 mins
40 mins
Rating: ★★★★★
Ingredients
14 oz can refried beans
1 cup halved cherry tomatoes
½ bunch scallions, diced
1 jalapeño, thinly sliced or diced
Tortilla Chips
Cashew Cream
1 cup raw cashews
½ cup water
2 tablespoons extra-virgin olive oil
2 tablespoons lemon juice
½ teaspoon salt
Spiced Quinoa
3/4th cups uncooked red quinoa - cooked
1/4 bunch of Cilantro
1 garlic clove, minced
1 teaspoon chili powder
1 teaspoon smoked paprika
½ teaspoon cumin
½ tablespoon fresh lime juice
1 teaspoons extra-virgin olive oil
½ teaspoon salt
½ teaspoon maple syrup
Guacamole
3 large Avocados
1 lime juiced
1/2 bunch of Cilantro, chopped
6 cloves of Garlic
Salt to taste I used 1/2 tbsp of course ground salt
Directions
Cook red quinoa by the instructions
* Note to make the cream smoother soak cashews for 5 hours in water
Make the Cashew Cream: In a blender, combine the cashews, water, olive oil, lemon juice and sea salt and blend until creamy. Chill until ready to use.
Make the Spiced Quinoa: In a medium bowl, mix together the quinoa, garlic, chili powder, smoked paprika, cumin, lime juice, olive oil, sea salt, maple syrup, and cilantro. Chill until ready to use.
Make Guacamole: In a medium bowl, mash the avocados, and mix in the other ingredients to taste. You will want the taste to be on the strong side as it will relax when mixed with the other layers.
In a serving tray that's 8x12, layer the refried beans, guacamole, cashew cream, and spiced quinoa. Top with the tomatoes, scallions, cilantro, more cashew cream and the jalapeños. Serve with chips.
More delicious recipes