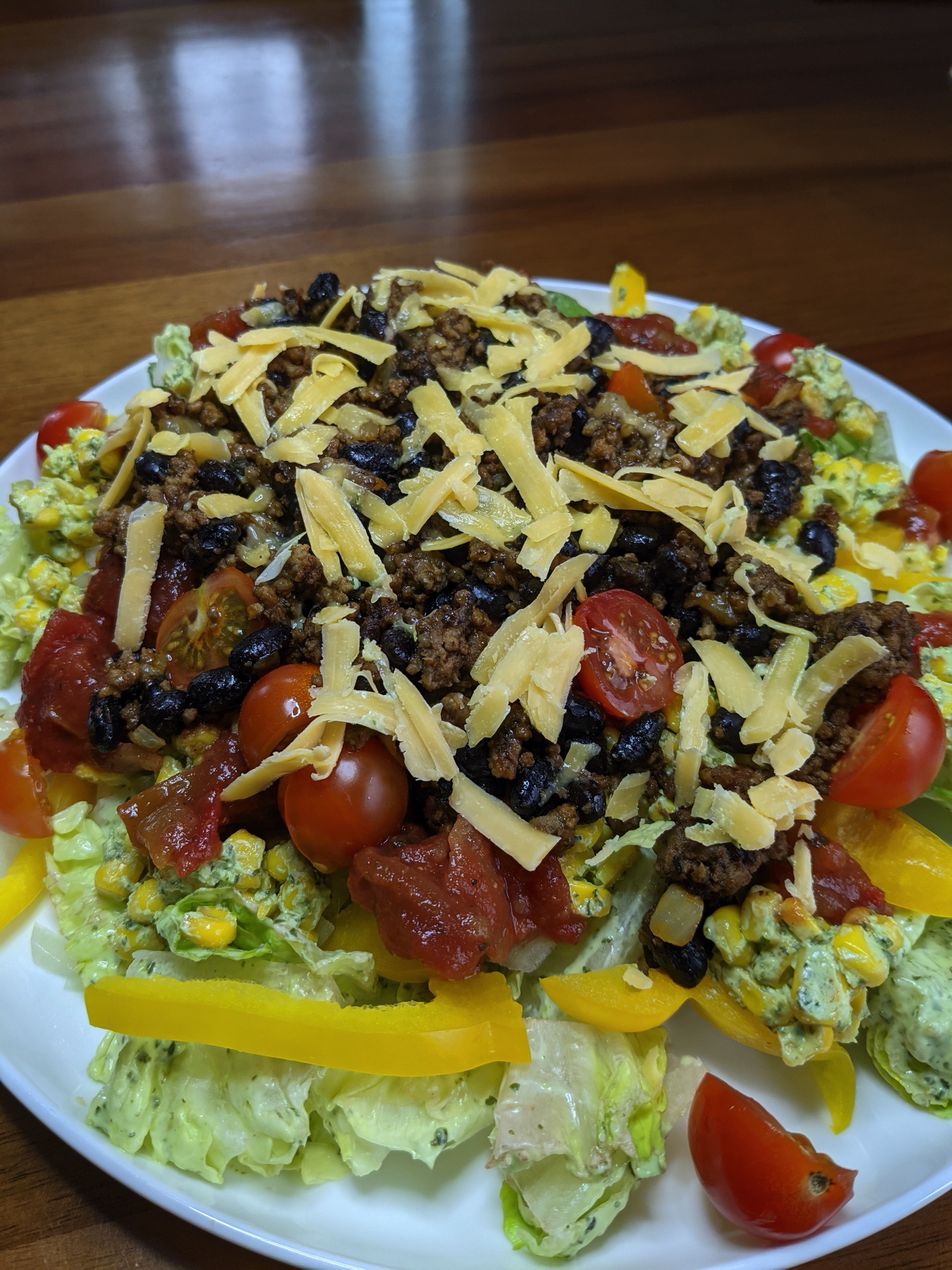 Yum
Ingredients
2 cups(2 bunches) cilantro, chopped with stems and leaves
2 cup plain Greek yogurt
6 tablespoons olive oil
1/4 cup lime juice (about the juice of 2 limes)
2 tablespoons honey
2 cloves garlic
1 teaspoon kosher salt, plus more to taste
2 lb Ground Beef
8oz White Mushrooms; Sliced
3 Sweet Onions; Diced
4 cans Black Beans or 8 oz dried beans cooked
3 packages Taco Seasoning(1 Hot, 2 Original is my preference)
36 oz frozen Corn
60 oz Romaine Lettuce; Chopped
2 Yellow/Red Bell Peppers; Sliced
16 oz Petite Tomatoes; Quartered
32 oz Salsa
8oz Cheddar Cheese; Shredded
Directions
Combine cilantro through salt in blender and blend smooth to taste and set aside
Using a 6-8 qt pot brown beef in skillet
Add diced mushrooms and saute until no longer letting of water
Add the onions and saute until soft
Add 3/4 cup of water and taco seasoning and mix
Simmer for about 5 min. then add a can of black beans
Simmer/brown corn in separate skillet getting rid of any water and salt to taste. Remove from heat and add 1 cup of cilantro dressing and mix.
Salt to taste
Toss the amount of lettuce you want in the cilantro dressing. Add lettuce, bell peppers, tomatoes, meat mixture, cheese, salsa.
More delicious recipes