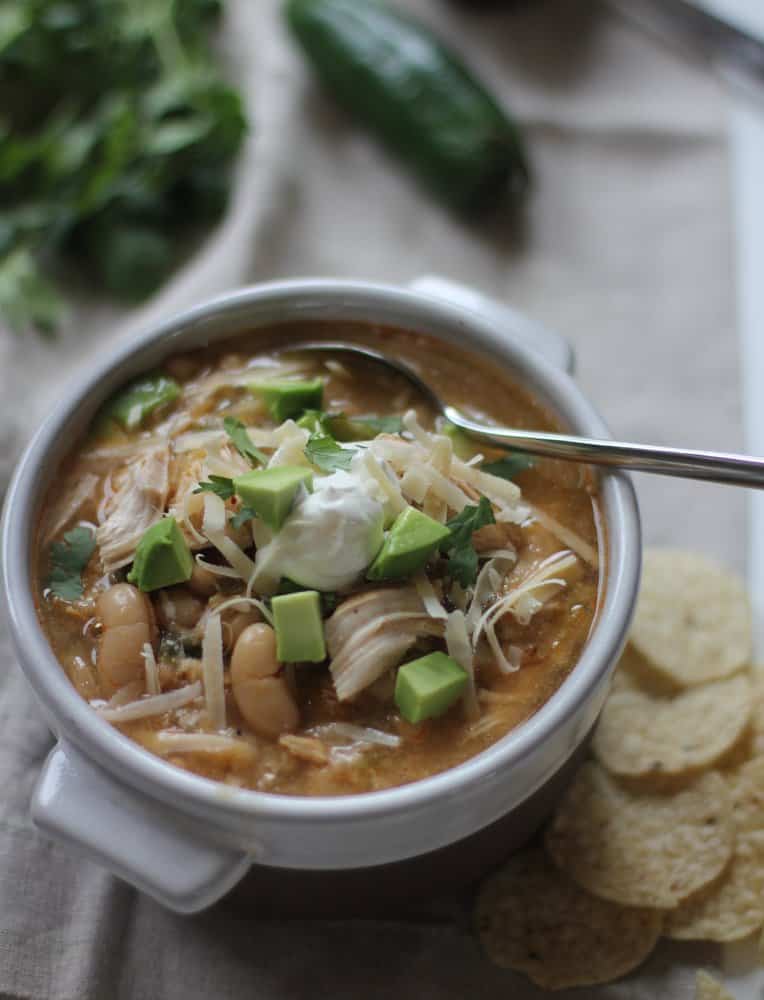 Yum
Serving: 1
5 mins
4 hrs
Rating: ★★★
Ingredients
For the Chili:
1 lb Dried White Beans (like cannellini)
1 1/4 lb Chicken Breasts
12 oz jarred Salsa Verde (we like Trader Joe's version)
1/2 Yellow Onion, chopped
3 cloves Garlic, chopped
1 tsp Ground Cumin
1 tsp Chili Powder
6 cups Low-Sodium Chicken Stock
For Serving (optional):
Fresh Lime Juice
Sharp Cheddar Cheese, shredded
Avocado, cubed
Cilantro, chopped
Sour Cream
Tortilla Chips
Directions
Combine all ingredients for the chili in the bowl of a slow-cooker and give it a stir to combine. Cook until the beans are tender and chicken falls apart easily, 3-4 hours on high or 7-8 hours on low. (Note: dried beans can vary in cook time depending on how long they've been stored, so plan for the higher end of the cook time range if you think yours might have sat on the shelf for a bit.)
Shred the chicken with a fork, allowing some large pieces to remain. Season with salt and pepper. (If you want a creamier chili, you can stir in 1/3 cup sour cream or plain yogurt.)
Ladle soup in to bowls and serve with any (or all!) the toppings you like.
More delicious recipes