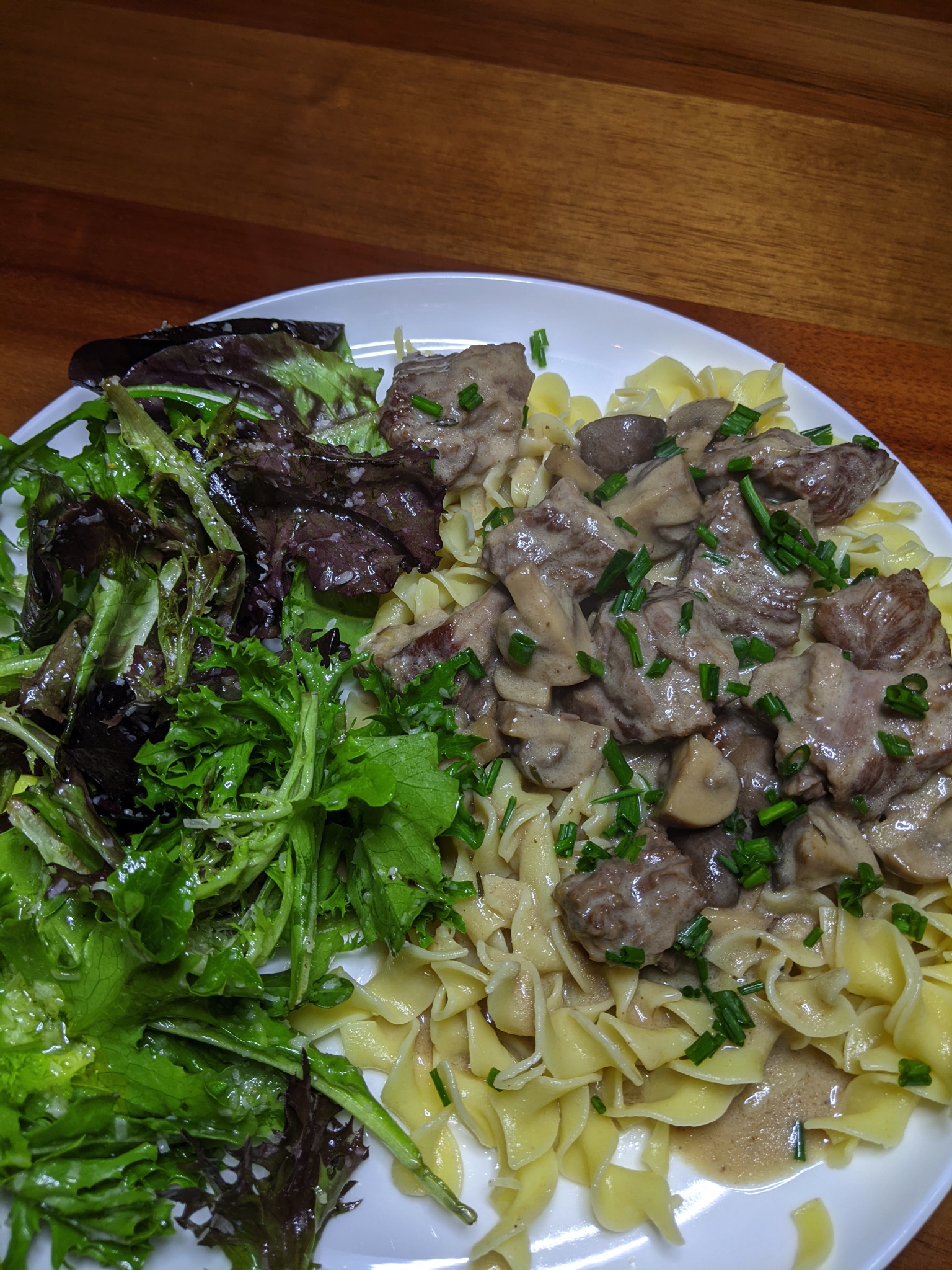 Yum
Serves 4
10-15 minutes
20 minutes
Rating: ★★★
Ingredients
1.5 lbs beef chuck roast trimmed
1 cup diced onion (half of a large onion)
8 oz white mushrooms, sliced or quartered
8 oz crimini mushrooms, sliced or quartered
1 sprig of thyme (3-4 slim stalks)
2 tbsp all-purpose flour
1 tbsp corn starch
2 tbsp butter
1.5 cups low sodium chicken stock
1 tsp. onion powder
1 tsp. garlic powder
2 tbsp Worcestershire sauce
2 tbsp Soy sauce
1 cup full-fat sour cream
Vegetable oil
Salt and black pepper
12 oz egg noodles
chives to garnish
Directions
Cut the beef chuck roast to a thickness of 1 inch into slabs and season with salt and pepper.
Heat oil in a pan over medium high heat and brown the slabs of beef (approx 5 mins per side). Once done cut into approximately 1 inch cubes.
Saute onions and thyme sprigs until soft and starting to brown over medium heat.
Toss into the pressure cooker beef, beef juices, onions, thyme, mushrooms, flour, chicken stock, Worcestershire, soy sauce, garlic powder, and salt and pepper and stir.
Pressure cook on high for 20 minutes and afterwards quick release.
Begin cooking the egg noodles following the directions. When complete drain and add butter and stir to combine.
To get desired thickness mix corn starch with water and pour into the pressure cooker while stirring. Apply heat to pressure cooker to return to a boil for 5 mins to set the corn starch.
Turn off heat and allow to cool for 5 to 10 minutes. Mix in sour cream.
Season to taste with additional salt, pepper, soy sauce and Worcestershire sauce.
Ladle your Stroganoff over buttered egg noodles and sprinkle with parsley or chives.
More delicious recipes