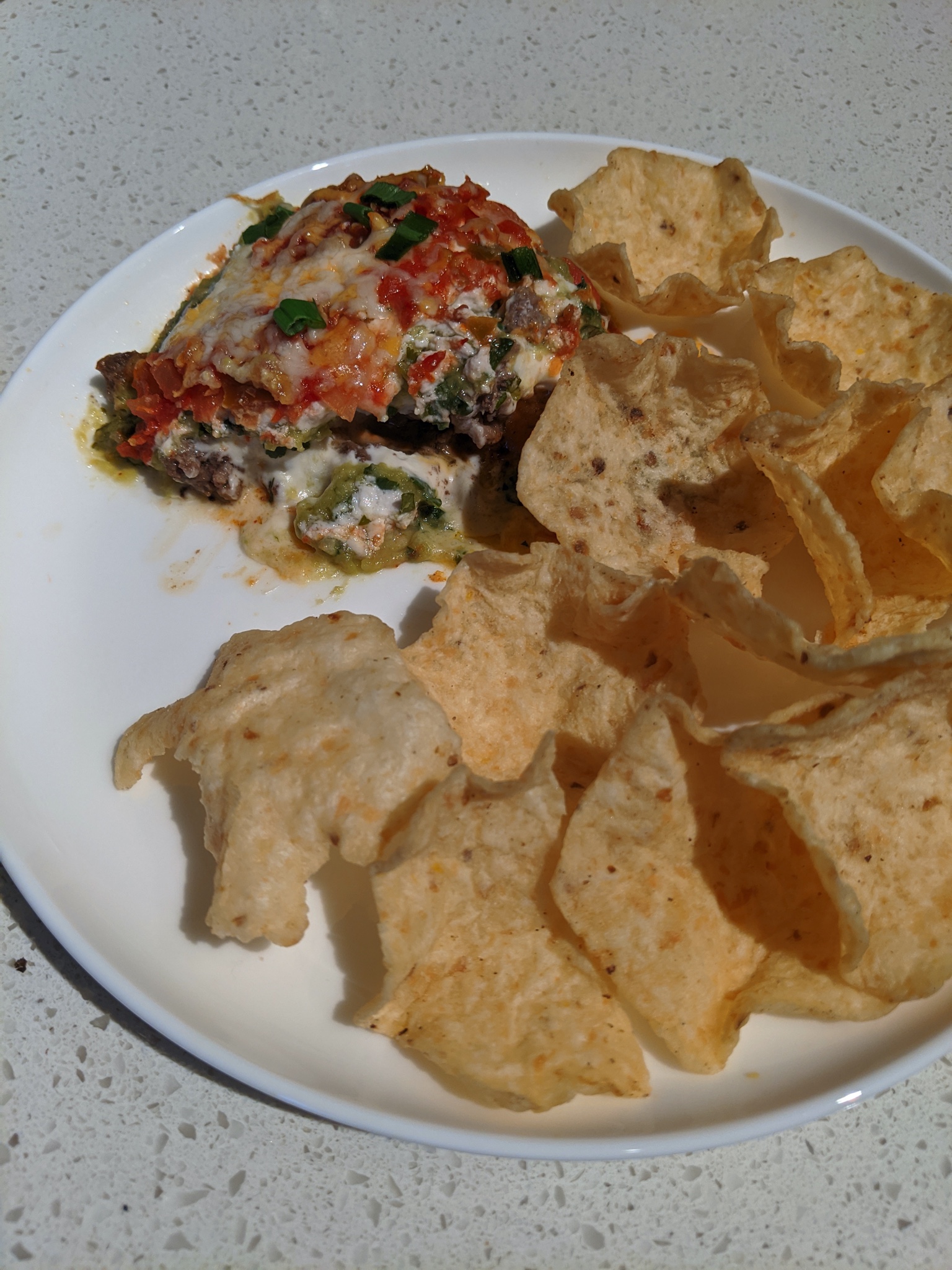 Yum
Ingredients
1 lb ground beef
1 Party Size Tostitos Scoops bag (14.5 oz)
1 package taco seasoning mix
1 package hot taco seasoning mix
1 (16 ounce) can fat-free refried beans
32 oz greek yogurt
1 package 8oz cream cheese, softened
8 oz cups Mexican-style cheese blend
16 oz salsa
1 bunch scallions, sliced
1 1/2 cups prepared guacamole (see below)
Guacamole
3 large Avocados
1 Lime juiced
1 Bunch of Cilantro
6 Cloves of Garlic
Salt to taste I used 1/2 tbsp of course ground salt
Directions
Set cream cheese out to warm up
Start cooking ground beef
Mix the taco seasoning mix and refried beans with 1 cup of greek yogurt and layer
Layer cooked ground beef
Layer 3/4 cup of shredded cheese
Mix and layer cream cheese in a medium bowl + 1 cup of greek yogurt
Make guacamole
Mix the ingredients together to taste. Cut off where the leaves stop and dice the Cilantro without taking the leaves off the stems. You will want this to be a little heavy on the cilantro/salt/garlic character as it will get weakened when merged with the other layers.
Layer guacamole
Layer 1 cup of greek yogurt
Drain salsa in a colander, but don't drain all of the liquid just enough so you don't have a layer that is a puddle.
Spread a layer of drained salsa
Top with cheese.
Bake at 350 for 20 minutes
Place a layer of scallions
Serve with tortilla chips or Scoops.
More delicious recipes