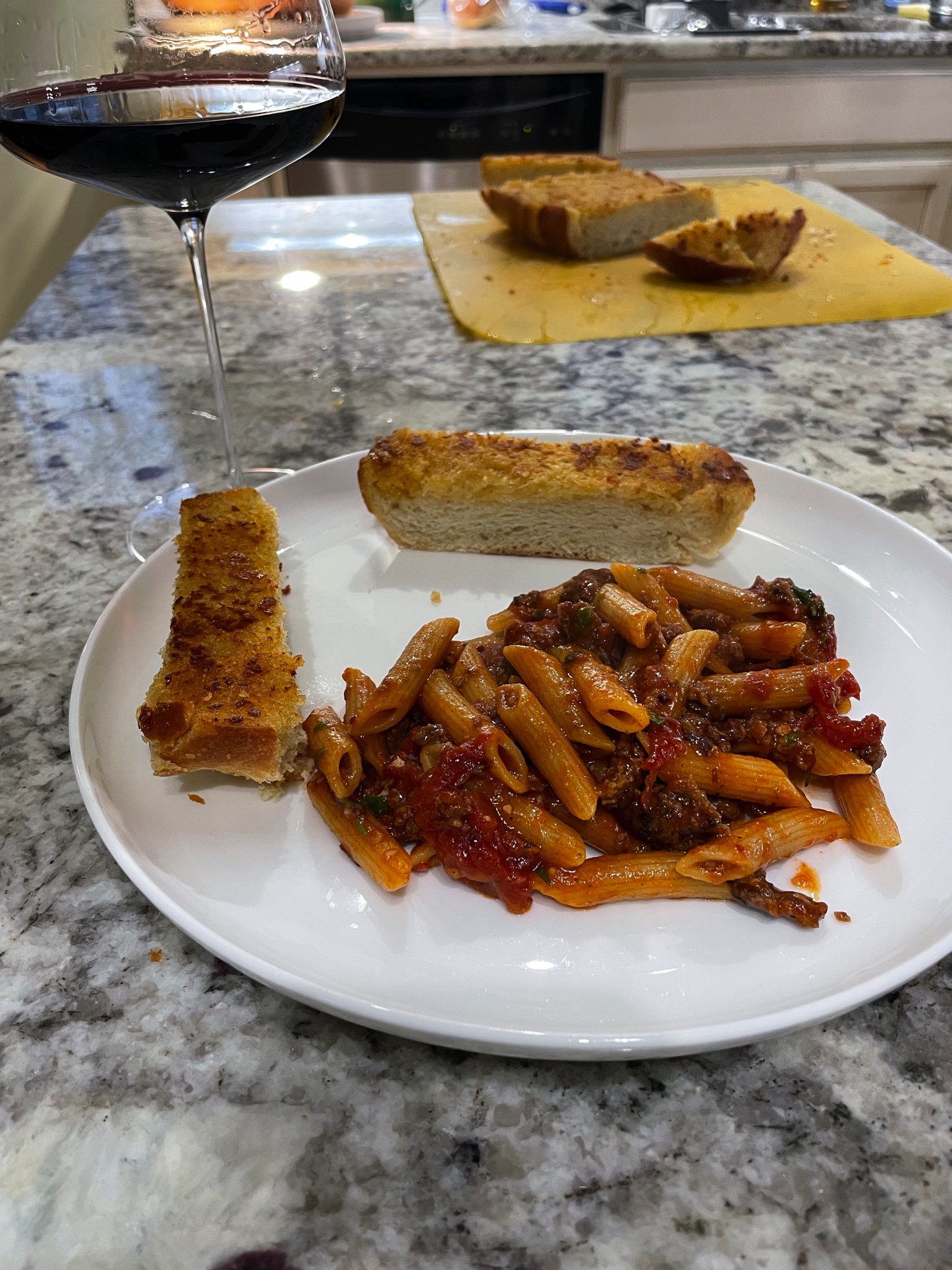 Yum
Serves 4
15 minutes
15 minutes
Rating: ★★★★
Ingredients
1 lb penne pasta
1 lb ground beef
3 tbsp extra-virgin olive oil
4 medium clove garlic, crushed
1 tbsp crushed red pepper
28oz can whole peeled tomatoes, crushed by hand
2 oz finely grated Parmesan cheese
Small handful minced flat-leaf parsley leaves
salt to taste
Directions
In a medium saucepan of boiling salted water, cook penne until just short of al dente, about 1 minute less than the package recommends. When finished drain and keep 1 cup of pasta water.
Brown ground beef in separate pan and sit aside.
Meanwhile, in a large skillet, combine oil, garlic, and pepper flakes. Cook over medium low heat until garlic is very lightly golden, about 5 minutes.
Add tomatoes, stir to combine, and bring to a simmer.
When pasta is ready, transfer it to sauce and add ground beef.
Add about 1/4 cup pasta water to sauce and increase heat to bring pasta and sauce to a vigorous simmer.
Cook, stirring and shaking the pan and adding more pasta water as necessary to keep sauce loose, until pasta is perfectly al dente, 1 to 2 minutes longer. Adding extra olive oil to coat the pasta if desired stirring well to emulsify.
Continue cooking pasta until sauce thickens and begins to coat noodles, then remove from heat and toss in cheese and parsley, stirring vigorously to incorporate.
Season with salt and serve right away with additional grated Parmesan.
More delicious recipes