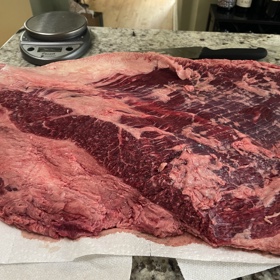 Yum
Ingredients
1 whole packer brisket
Kosher salt (1/2 tsp per lb)
Rub
3 tbsp coarsely ground black pepper
1 tbsp sugar
1 tbsp onion powder
2 tsp dry mustard powder
2 tsp garlic powder
2 tsp ancho chili powder
1 tsp ground chipotle chili powder
Directions
Mix rub together
Rise and dry the meat with paper towels
Trim off the fat cap leaving 1/4 inch of fat and removing any silverskin
Sprinkle with salt, applying it more thickly where the meat is thickest & rub
Add water pan(refill if it evaporates) to smoker and set to 225F
Dampen the meat with water and put on the smoker
Add 4oz of wood every 30 minutes for the first 2 hours
If the meat stalls between 150-160 wrap the brisket. Before wrapping the fat should start rendering.
If wrapping use 2 layers of butcher paper side by side and wrap very tight. If not tight it will steam and taste more like a roast.
The meat is done when inserting the temperature probe is extremely smooth with no pressure. This tends to happen around 203F.
Let the meat rest for at least 2 hours keeping the temperature above 160F. If resting for over 2 hours use a faux Cambro(cooler with the brisket wrapped in towels) or an oven turned on it's lowest setting.
More delicious recipes