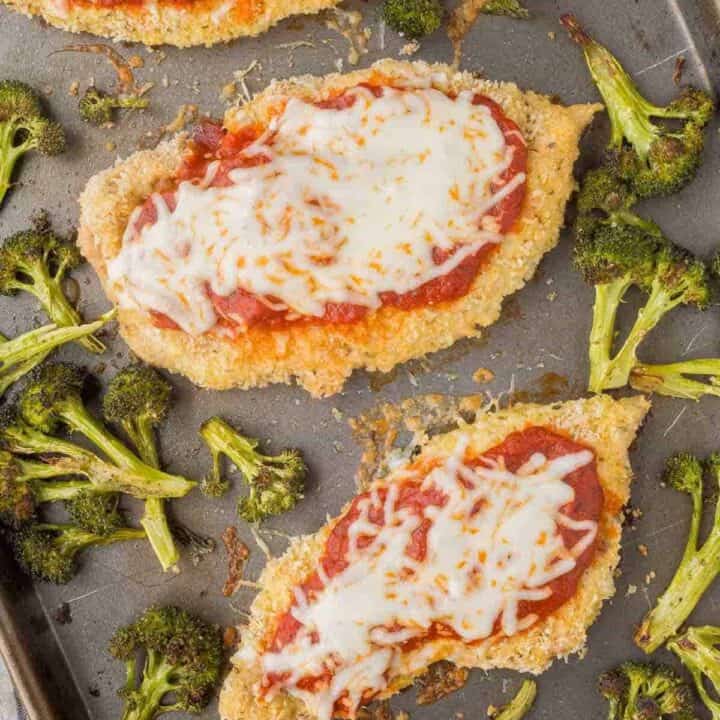 Yum
Yield: 6 servings
15 minutes
30 minutes
Rating: ★★★★
Ingredients
Broccoli:
5 cups broccoli florets, washed (approx. 3 heads)
1 tablespoon extra virgin olive oil
1/2 teaspoon salt
1/2 teaspoon pepper
Chicken:
1/2 cup all purpose flour (or white whole wheat)
1/2 teaspoon salt
1/2 teaspoon pepper
1/2 teaspoon garlic powder
1 large egg
1/2 cup panko
1/2 cup grated Parmesan cheese
1 teaspoon dried oregano
3 large boneless skinless chicken breasts (about 2 pounds)
1 cup marinara sauce
1/2 cup grated mozzarella cheese
16 oz fettuccine
16 oz pasta sauce
Directions
Preheat oven to 425°F.
Place broccoli on rimmed sheet pan and drizzle with 1 tablespoon olive oil. Sprinkle with salt and pepper, toss with spatula so broccoli is coated with oil.
In a bowl place flour, salt, pepper, garlic powder. Stir to combine.
In a bowl, beat the egg.
In a bowl, mix together panko bread crumbs, Parmesan cheese, and oregano.
Place chicken on a cutting board and top with wax paper or plastic wrap. Using a meat mallet or a rolling pin, flatten chicken to about 1/2 inch — the key is that you want it to have even thickness.
Take one piece of chicken and coat in flour mixture, then dip in egg mixture. Let excess drip off and then dip in panko and Parmesan mixture. Place on baking sheet with broccoli. Repeat with remaining chicken breasts.
While chicken is cooking prepare fettuccine pasta by instructions on package. When the pasta is al dente drain keeping 1/2 cup of the drained water. Return pasta to stove with pasta sauce and the drained water and cook for an additional 5 mins.
Bake for 15 minutes, toss broccoli around so it gets brown on all sides, and cook for 10 minutes more.
Remove from oven and carefully add marinara sauce and mozzarella cheese to the top of each chicken breast.
Return to over and turn on broil to brown the cheese.
More delicious recipes