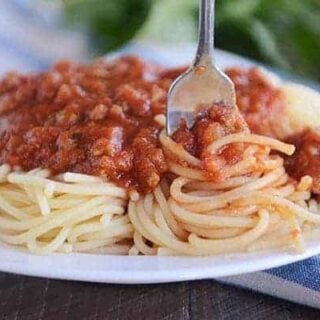 Yum
Yield: 16-20 servings
20 min
1 hr 10 min
Rating: ★★★
Ingredients
1 tablespoon olive oil
2 cups onion, chopped and divided
5 cloves garlic, finely minced
2 pounds lean ground beef or lean ground turkey
1 red bell pepper, seeded, cored and coarsely chopped
1 can (12-ounces) tomato paste
1 teaspoon coarse, kosher salt
1 teaspoon black pepper
3 teaspoons dried oregano
3 teaspoons dried basil
1 1/2 teaspoons dried thyme
2 cans (14-ounces each) Italian-style diced tomatoes or regular diced tomatoes
2 cans (28-ounces each) crushed tomatoes
8 ounces button or baby bella mushrooms, chopped
1 1/2 cups beef stock or beef broth
2 tablespoons brown sugar
2 bay leaves
2 tablespoons balsamic vinegar
Directions
In a large pot, heat the olive oil over medium heat. Add 1 cup of the chopped onions, and sauté until translucent and slightly browned, 3-4 minutes. Add garlic, and cook, stirring constantly for a minute or so.
Add beef, and cook, breaking into small pieces, until it is no longer pink, 6-7 minutes. Drain excess grease.
In a blender or food processor, blend remaining 1 cup onion and the red pepper until smooth. Pour the mixture into the pot with the beef and onions.
Add the tomato paste, salt, pepper, oregano, basil and thyme, and cook for 1 minute, stirring until combined.
Add diced tomatoes, crushed tomatoes, mushrooms (if using), beef broth, and sugar. Stir until combined before adding the bay leaves.
Bring the sauce to a boil, and then reduce to low and simmer for 1 hour, stirring occasionally. Stir in the balsamic vinegar and let the sauce rest for 10-15 minutes (for the flavor to absorb) before serving.
More delicious recipes